Tahoe Heartbeat Festival is an eco-friendly event that incorporates environmental consciousness with the goal of minimizing negative impact on the environment by using fewer resources and reducing waste.   With this in mind, we are encouraging guests to take a green approach when planning their transportation to the event. 
The event will offer a free Bike Valet Tent near the entrance of the event adjacent to the main college parking lot.  There are designated pedestrian and bike paths at the college.   Look for a large 10×30 tent with Bike Valet signage.   Event staff will be on-hand to watch your bike during the concert. Remember to bring lights for yourself and your bike for when the event ends at 9:00PM as darkness sets in.
LIME AND BIRD SCOOTERS/BIKES
There are two shared mobility electric bike and scooter companies, Lime and Bird, who have units located all over South Lake Tahoe.  Simply download the app on your smartphone, enter your information, and start e-journey into the event.  Download the Lime Bike App Here.   Download the Bird Bike App Here. Remember to ride safe,  always wear a helmet, watch out for traffic, and wear lights when it starts getting dark.  
LAKE LINK: NEW FREE PUBLIC TRANSPORTATION
South Lake Tahoe is pleased to introduce Lake Link, a new FREE on-demand rideshare microtransit service that riders utilize for trips within highly congested traffic areas within Stateline, Nev. and South Lake Tahoe, Calif. Riders can use a mobile app to book their trips in real-time. Dedicated branded ADA accessible vans with bike racks will pick up and drop off riders at any location within the service area, which includes the college.  Download the Lake Link App Here.   
The City of South Lake Tahoe has three new electric buses in use with stops at Lake Tahoe Community College.   Public electric transportation would be a great alternative to get to the event; however, the buses will not run after the event from the college to exit, which ends at 9:00PM.  We suggest using public transportation to get to the college, and rideshare (Uber/Lyft), or Lime/Bird Bike/Scooter out of the event.  For information about Trip Planning to the event on City Busses routes, click here.
If you must drive a vehicle to the event, we encourage you to invite other ticket holders to join you.  As of this letter, there are 200 paid parking spaces left on-site at the college for just $20.00 each.   Only vehicles who have PRE-PAID for on-site parking will be allowed to drive down College Drive off Al Tahoe Blvd.   Event Staff will be located at the entrance of College Drive at Al Tahoe Blvd to scan in vehicles and allow them onto the road to park next to the event.   Click here to purchase pre-paid parking.
OFF-SITE OVERFLOW PARKING
Tahoe Heartbeat Festival has arranged to use the South Lake Tahoe Middle School Parking Lot as free overflow parking for the event.   The Middle School is located 2940 Lake Tahoe Blvd, South Lake Tahoe, CA, just 1.4 miles from the event entrance.   It's a 5 minute shuttle ride, or a 23 minute walk.  There will be free round-robin shuttles running from 2:00PM until 10:00PM.  If you do walk from the Middle School, please remember to use only designated crosswalks.  There are dedicated pedestrian paths at the college as outlined below: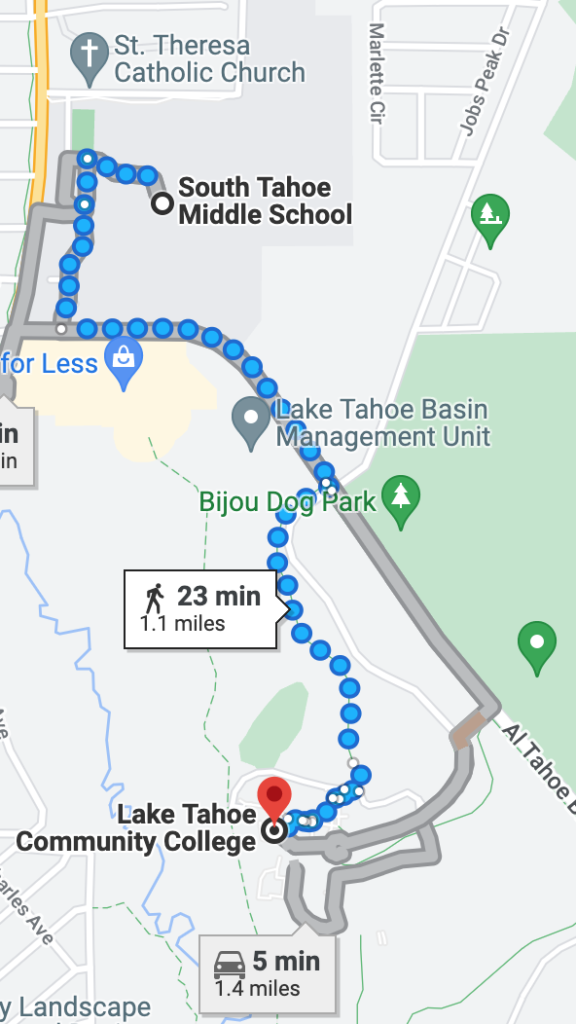 STREET PARKING AND NO PARKING AREAS
Street Parking is discouraged as it has the potential to slow-down and clog-up traffic along Al Tahoe Blvd.   There will be NO PARKING signs along the north side of Al Tahoe Blvd across the street from the College.   Please DO NOT park on the northside of Al Tahoe Blvd as you will be towed.   Overflow parking is legal on the south side of Al Tahoe Blvd with pedestrian paths available at the college that lead to the playing fields.   
PROHIBITED STREET PARKING AREAS
Street Parking in the neighborhoods surrounding the college is strictly prohibited.  Please do not attempt to park in front of people's houses.  Remember, we are guests of the City using this beautiful location to help raise money and awareness of the Tahoe Fund and would like to be invited back each year as an annual event.   Attempting to park in the neighborhoods will cause issues with the homeowners and have a potential negative impact on our ability to return to the college in the future.  Your help and consideration of the policy will be greatly appreciated.